Most search engines, including google, yahoo, bing and others, allow you to buy links on specific search keyword results page.  Think about the terms that your potential visitors may search for, wouldn't it be nice to show up at the top of those search results? Of course optimizing your web site can help it get to the top of the organic search results, for the fastest top search results you can buy preferred placement in sponsored ad zones around the organic results.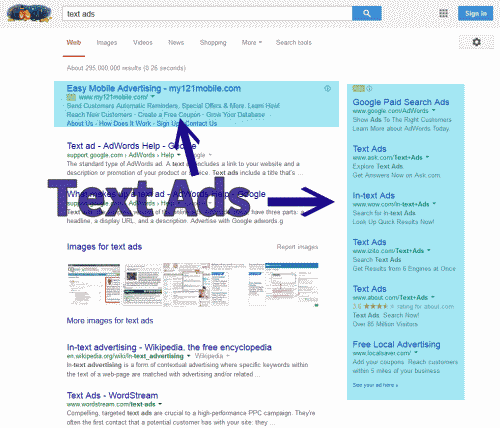 Google adwords, adsense, and other advertising around search keyword results generally are priced different for different phrases, and the prices can fluctuate for top placement depending upon what other companies bid for those words. With most search engine pay per click advertising systems you can choose times of the day or week to run your ads, and the zip codes that the ads will appear in. There are many other complex settings you would likely want adjust for your search engine sponsored ad campaign, such as keeping a focus on negative keywords.
We have years of experience in setting up, maintaining and adjusting these pay per click search marketing campaigns to suit individual web sites needs.
We help you select the best keywords to go for, and setup the sponsored search engine listings campaign. We can monitor this campaign for you, make adjustment to times and days that your listing shows, as well as monitor your position in those results and adjust the bids so that you maintain the position that you want.
Contact us with your desired search phrases or customers you are looking for, and we'll put together an estimate for what it will cost per month to get immediate results, in most cases we can have your listing appearing on search engine results pages within 72 hours. Every few weeks we recommend looking at your sponsored ad campaign to see what percentage of web site visitors you are getting, and making any adjustments to the key word phrases or campaign budget.
---
Initial setup of your adwords and yahoo / Bing search engine campaigns cost $200.
Once we have your campaign setup and ads are approved they will run at the times and general location of your choosing.
We are only charged for actual click throughs to your web site.
We total the amount of clicks and money spent at the end of the month, add our management fee and bill you for that month's PPC advertising.
Some months you will get less clicks and thus spend less money, at other times of the year you will enjoy more web site views directly from the search results and the ad bill will be higher.
You can cancel this service at any time, or pause the ads you're running for a week or more during times when your office may be closed. You can choose to have a monthly max budget and we will monitor the clicks to keep them within that budget, pausing the ad run before the end of the month if needed.
Some of our clients have established a $1500 max monthly budget, and yet in many months their actual clicks total $300 – $400. Only paying for clicks means not wasting money for ads that are not bringing you visitors, but it also means that the amount will fluctuate day to day, week to week and month to month.
Fees subject to change, and only guaranteed upon signed contract. Fees posted are representative of our average search engine marketing clients needs. If you require many updates and changes that require more time than average,  we reserve the right to request additional fees or terminate your account.
Some of our clients find so much success with search engine paid placement, that they ask us about other paid placements internet advertising opportunities. We can also help you establish target pay per view or pay per click ad campaigns on other internet portals such as facebook, and other content networks.
Contact us for details or get started today!