Search Engine Optimization for your web site includes several key factors that need to be addressed.
Optimizing and fixing your web site
We have seen a lot of good looking web sites that have several mistakes keeping them from
gaining the proper search engine placement. Often these mistakes are in the "Meta Data" that search engines see, yet are invisible to web site owners and visitors. We take a look at the meta data and other important factors to offer fixes that will help improve your rankings. Often there are critical errors in the meta data that many web site designers overlook and these can have a huge impact upon your search engine friendliness.
We also look at the content of your web site and look at the site as a whole in the way the search engine robots, (aka spiders and crawlers) see your site. Sometimes the most visually stunning web site designs look like a completely blank page to search engines. This is especially true with fancy flash and javascript designs. We look at your site through a search spider's eyes and make suggestions to make your site more attractive to the engines' automated indexers. Sometimes we suggest adding or changing some of the content on your site, often times a few pages can be re-written to improve search ranking, and still giving the exact same info to your visitors.
There are many  fixes that can be applied to your site to help it get better front page results, contact us for a web site consultation and we can give you an overview of what needs to be done to your site to make it do better with search engine results.
Sponsored Search Engine Placement
The fastest way to be seen on the front page of search engine results is to have an active sponsored ads campaign.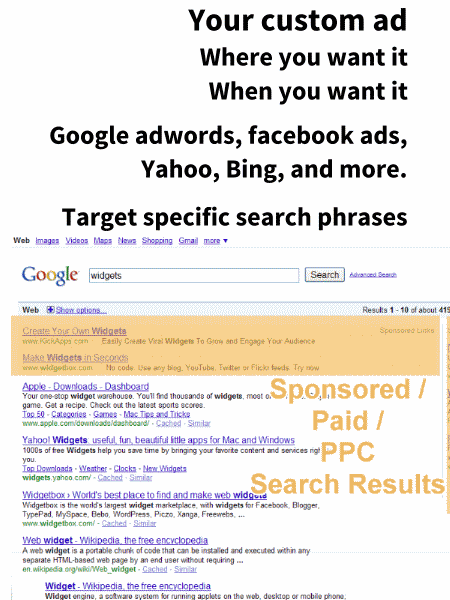 There are many different options for running these sponsored listing campaigns. We have tested many options for managing google adwords and paid listings with the other major search engines including Bing and Yahoo. When sponsored ads are managed efficiently, you can fine tune not only the keyword phrases for which your web site will appear in top results, but also the exact time of day that your listings will appear. Paid listings can also be targeted to show within variable distances from your physical location, nationwide or globally. Some of our clients choose to pay for listings when people within 15 miles of their physical location are searching for information related to their business. We will customize your ad campaign to display ads only in the areas that work for you.
Some of our customers run sponsored ads in the search engines 24 hours a day to get more customers and remain on the front page of google, msn and yahoo. For some of our clients we have found it best to run these targeted ads only at certain times like 9am-5pm when they have people available to answer the phone. We have found great results by targeting these sponsored search engine placements within certain zip codes or ranges of distance from physical locations of our clients. Some of our clients run search engine ads 24 hours a day. Your goals and budget will help to determine the best set of parameters to use when running sponsored listings.
When sponsored listings are managed properly you only pay for results, and avoid wasting money for ads that would be displayed in the wrong geographic location, the wrong time, and for the wrong keywords or search phrases.
Contact us for an estimate on what kind of campaign, and it's associated costs, would best suit your web site's needs.
Additional Internet Visibility

You could have the best web site in the world, but if no one knows about it, it's like the tree that falls in the woods and makes a sound, yet no one hears it. Google and the other search engines consider your web site to be popular and worthy of front page search results when your off site optimization is done well.
The ingredients for well done off site optimization are different for different industries, and have changed dramatically in recent years. For many web sites having the proper off site optimization is the main missing ingredient in attaining the higher ranking above your competition within the organic search results.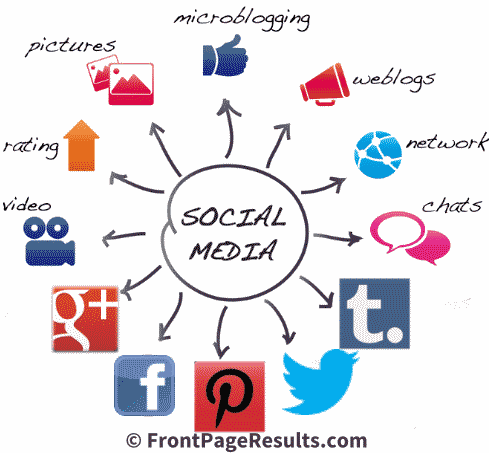 We can enhance your visibility around the web by making sure you are listed in the important directories and local search results (ie google place, yahoo local, etc) – and make sure you have a presence on the important social networks such as facebook, twitter, and more.
We can also establish content network ads on many web sites that are related to your industry. Having an ad displayed on a health magazine web site when someone is reading an article about dental health may help to drive new patients to your web site. WE have access to these content networks, and can even target your ads so they only run for visitors who are within a certain distance of your office, and set things up so you only pay when people actually click over to your site.
Other search engine results
Some of our clients enjoy an excellent ROI (return on investment) with our services that work to get your web site featured in the google video, google shopping, or search engine image searches. Some businesses gain additional customers from establishing a presence on other social media portals such as facebook, pinterest, twitter, and others.
There are several other tricks of the trade and can increase your web site traffic. If your business could benefit from these "supplemental" search engine results, or other establishments around the web, we'll let you know. Some clients enjoy an excellent ROI when combining the sponsored listing option that can also extend to publishers beyond the simple search engine results. They are not for everybody, but some people have increased web site visits and sales dramatically by having more people find theme with these methods.
We do all of this and much more to get web sites to the front page of google and other search engines.
 Contact us for a consultation and get started with front page results today!