Understand that the best place for one business to advertise online may not be the best for another. We aim to achieve the best return on investment with any advertising dollars spent, part of that is to determine the goals of each individual client, test, market, measure results, and refine the options. Each online advertising campaign we handle is custom tailored to suit the individuals needs. With that in mind, here are some suggestions for gaining excellent exposure online.
Search Engine Listings
Having your business listed within the top search results will often lead to the best return on advertising investment.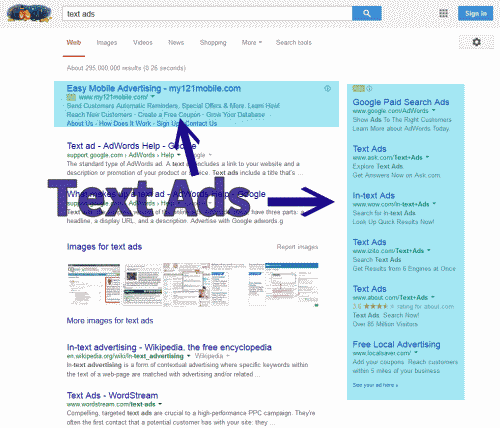 Showing up in the top search results will not only get your information seen, but you have a high chance of getting customers to click over to your web site for more information right at the moment when they are looking for more information about your services.
When someone goes to google and types in "Dentist [City Name]" – they will likely click through to a few different web sites that are shown on the front page. Some peole may go to the second and third page (or further) in some cases when they are looking for something specific that they are not finding with the dentistal web sites that are showing up on the front page, however many times a decision to make an appointment occurs on the first page of search results.
We work with clients to improve their web site so they have a better chance or showing up in the first page of organic search results with our web site optimization programs.
We can also get your web site to show up in the sponsored listings on the first page of search results with our pay per click programs.
Social Media Sites
Businesses are seeing more and more results from being seen on social media web sites such as facebook, twitter, google plus, and others.

Having an account or a page with these sites can be a benefit to most business, and there are advertising options with most of them as well that can further promote your business around these networks. We can help you establish your presence with these portals with our social media package.
Content Networks
Many web sites have signed up to sell advertisements in partnership with Google, yahoo, MSN / Bing and other advertising networks. We can get your advertising messages displayed on relative content networks to further reach those who are reading about related issued on other web sites. When these content networks are leveraged in a way that targets people within certain geolocations, they can provide an excellent ad cost to new client ratio.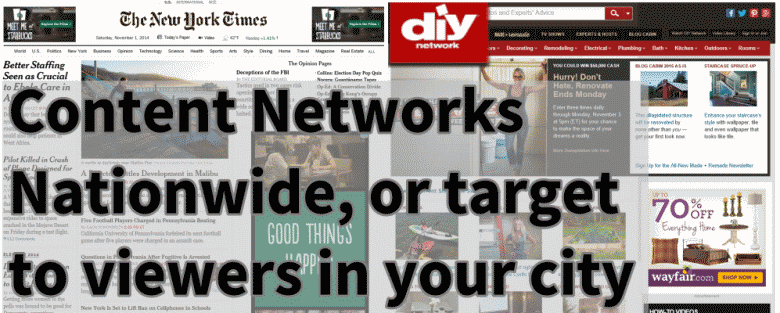 Specialty and Niche Sites
Some web sites are best promoted within specialty web portals or niche web sites. Some of our clients find that branding themselves along side certain video categories on places like youtube and vimeo and drive a lot of interest. Local newspapers, online health publications and other web portals are all options that we can explore if they their demographics match your goals. Depending on your product or service, and the goals of your marketing, we may explore some of these options for you as well.