Getting a web site to the top of the search engine results can be tough work. Even if you have created the best web site for your niche or industry, it often does you little good if it does not show up one the first page of search results. We have helped many people get their web sites to the top of search engines like google, yahoo and msn for the keywords and search terms that their customers are searching for.
Get a better web site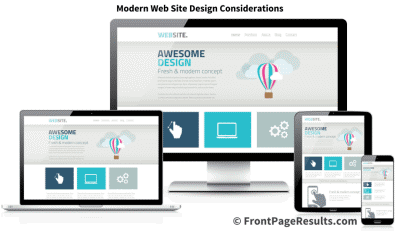 We offer many services aside from what many SEO companies routinely package for clients. We understand that different clients have different needs. Some people know exactly what search keywords they are targeting, and just need to know how to get there. For other clients, web site redesign and copy writing are necessary ingredients to most effectively reach the customers they are looking for.
Some of the things we do include:
Finding and fixing bugs and code errors that may be invisible to the average viewer.
Optimizing the structure and content of your web site so that it is search engine friendly.
Want to change some text or pictures on your site? Simple changes are done at a fair price.
A complete new web site design.
Mobile / phone / tablet enhanced web sites.
Move your site to a faster web hosting environment.
Learn more about what we can do to fix up your web site.
Get a better web presence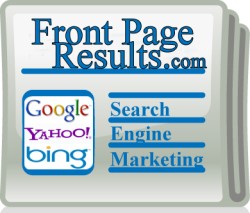 There are many ingredients to creating a successful web presence today. Knowing all the key ingredients and how to implement them is what it takes to get where you want to be in the search results these days. Front page results is the SEO / Search Marketing / Web Site Optimization division of a well established internet company, Global Advanced Media, that has been creating and optimizing web sites for many years.
Some of the things we can help you with:
Helping you determine what keywords your customer base will be searching for.
Establishing your presence on multiple portals where potential customers spend time on the web
Finding relative places to promote your web site to get additional customers to your site.
Pay per click sponsored ad listing with major search engines, and other web sites.
Profiles and updates with social sites and important directories.
Putting together the complete plan to ensure that your site makes it to the top of google, yahoo, and msn.
We have been through many trials and tribulations with all the various changes in search engine algorithms, so you can enjoy our yeas of experience, and get results fast, without worrying about the penalties that some "get rich quick / blackhat SEO" firm would do that could hurt your site and actually make it show up lower in the SERPs.
Front Page Results uses only "white hat" SEO techniques. We follow established google webmaster guidelines.
There are some companies that employ shady tactics on the web that may temporarily get you fast results, but the wrath of a future google penalty is not something you want to deal with. We plan for the long term, we aim to get front page results and keep them. Learn more about bad SEO services, or black hat techniques by clicking here.
We will not try to sell you a one size fits all package.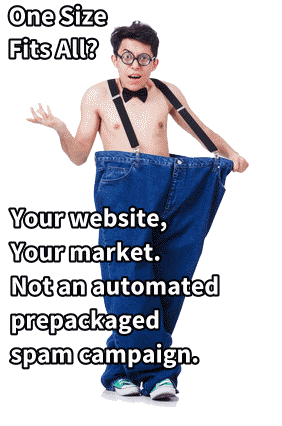 If you need some of our services we are happy to help you with what you need. Some businesses will require all of the options in our toolbox to enhance their ranking in highly competitive markets, however most web sites will perform better with some basic updates. You tell us what you want, we will make some suggestions and you can choose which puzzle pieces you'd like us to handle, and which you'd like to have done elsewhere. We can do it all, but we are happy to work with your current web hosting and web site designers.
Different business have different needs, and each market around the country and around the world will have different challenges for competition. Some clients have opted to have us handle all of their online issues, and some we simply handle some basic updates and their PPC advertising. What is best for you is our top priority.
Ready to get your site closer to number one on google?
Click here to get started. Provide a few details and we will put together a plan for your web site and your budget.
Click here to see some of our SEO packages and become more familiar with the process.